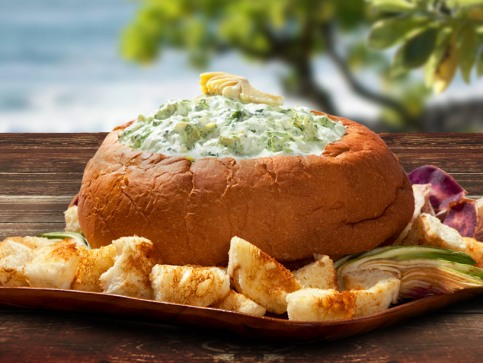 Islander Artichoke & Spinach Dip
Prep:
10 min
Cook:
10 min
Serves:
11 people
Submitted by:
Ingredients
1 cup mayonnaise
1 cup sour cream
1 package (1 ounce) ranchstyle dip mix
1 can (13-15 ounces) artichoke hearts drained and chopped
1 package (10 ounces) Frozen chopped spinach thawed and well drained
1 can (8 ounces) sliced water chestnuts drained and chopped
1 cup parmesan cheese optional
2 loaves KING'S HAWAIIAN Original Hawaiian Sweet Round Bread
Preparation
1. Preheat oven to 350° F.
2. Carefully hollow 1 loaf, leaving 1-inch on sides and bottom to make a bowl.
3. Cube removed bread and additional loaf.
4. Place bowl and cubes on baking sheets and bake for 10 minutes or until golden brown.
5. Blend mayo, sour cream and dip; mix together in a large bowl.
6. Add artichoke hearts, spinach and water chestnuts; mix well.
7. Cover and refrigerate until well chilled.
8. To serve hot: Stir in 1 cup grated Parmesan cheese; microwave on high 4-5 minutes or until hot, stirring occasionally.
9. Transfer dip to bread bowl and serve with toasted bread cubes.